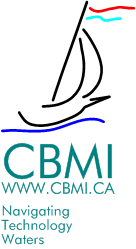 The High Technology Industry Is a Sea of Changes
The storm that engulfed the high technology sector has already caused some vessels to flounder, along with all gold, dreams and promises carried onboard. Many more are in peril, drifting aimlessly or listing heavily.
Old sea dogs know that sailing through a storm requires more than just wind, water and vessel. It requires an understanding of the physics of motion, a sense of direction, a strong focus, and boldness. These talents, coupled with an appreciation of the power of the natural elements, allow one to safely pilot a ship and reach promising new worlds.
Similar are the skills required to steer on the stormy sea of high technology. For skippers and owners, trying to predict the course of financial markets and technology evolution is like trying to read the signs of the sea.

Since 1994, CBMI has conducted nearly 100 consulting mandates in high technology. We worked with 40 clients in North America and overseas to implement the actions necessary for financing and to achieve growth and profitability. These mandates include 20 due diligence studies for investors. We also consulted for corporate clients on financial plans, market studies, and technology cases, and we completed interim management mandates. We combine cutting-edge analytical and modeling capabilities with a broad understanding of the high tech industry, including application software, realtime software, ASPs, cable TV, video on demand, IP telephony, international carriers, IXCs, CLECs, wireless, security systems, and multimedia.

"CBMI can look at a business case from all relevant points of view - finance, technology, operations, marketing, regulatory - and make incisive recommendations to support strategic decision-making."

| | |
| --- | --- |
| | André LeBel, CEO, SOCAN (Toronto, Canada). |

"I turned to CBMI's background and expertise in the IP billing and communications space in assisting with an evaluation of a portfolio company's technology prior to a key investment decision. He came through with a critically important outside perspective not just on the technology, but the firm's overall business prospects, in an extremely short period of time."

| | |
| --- | --- |
| | Brian Boyer, Sr. Vice President, First Analysis Corporation (Chicago, USA). |

"At Capital Communications CDPQ, we used CBMI to help assessing companies prior to potential investments. I have been really impressed with the completion speed, the depth of the analyses, the high quality of reports and presentations, and the soundness of the recommendations coming from CBMI."

| | |
| --- | --- |
| | André De Montigny, currently Vice President, Business Development, Air Transat (Montreal, Canada). |

Quick Links:

See an online presentation of CBMI.


Download Benoît Marcoux' Résumé